TUBULAR INVERTER BATTERIES
Why Tubular Batteries are most suitable in Inverter Application?
A tubular battery uses technology that seals the active material in polyester tubes called gauntlets, instead of pasting it on the surface of the plate. As a result, there's no shedding or corrosion, ensuring long battery life. Owing to their toughness and durability, tubular batteries can operate at extreme temperatures, and are used in high cyclic applications involving frequent and prolonged power outages.
The Exide Torr Tubular Advantage
All tubular batteries behave similarly to start with, but obviously, not all tubular batteries are the same. The difference lies in the composition of the alloy in the positive support structure, as well as in the way that the main back bone of the plates, called the SPINE, is cast.
With the help of Torr Tubular technology, Exide tubular batteries use the high pressure 'HADI' casting process at 100 bar, while most other manufacturers use gravity of low pressure casting processes. The spines in Exide tubular batteries are cast from low antimony lead alloy, with selenium, copper, tin, and arsenic, to protect the lead support from anodic corrosion.
A scanning electron microscope (SEM) study reveals the differences in machines that use gravity or low pressure casting, and those that are 'HADI' casting.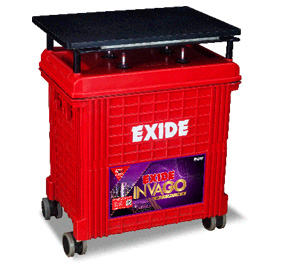 Thick Tubular Plates
Bottom Mounted Castor Wheels – Cube Container
Top Mounted Tray to House Inverter / Home UPS
Sliding Channels for Topping Up
Registered/Patented Design
No need for External Casing
FLAT PLATE INVERTER BATTERIES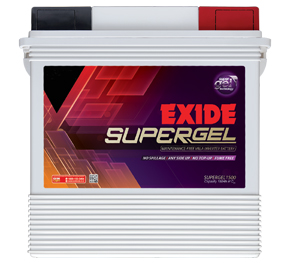 Premium maintenance-free design requires no electrolyte maintenance unlike deep cycle flooded batteries that require frequent checking and adjustment of electrolyte level.
High pressure venting system leads to high oxygen recombination efficiency.
Because there is no liquid type electrolyte, it will not leak out of battery if tipped on its side.
Higher tolerance against damage from deep discharge.
Extended shelf life, low self-discharge rate.
Enhance recharging efficiency.
Delivers the best combination cycling and deep cycle services.
Prevention of Thermal runaway through efficient heat dissipation.
Stable quality & High reliability.