EXIDE EPIQ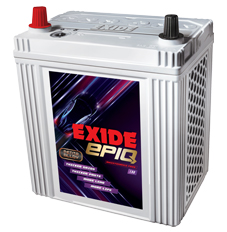 New advanced, special long life corrosion-resistant PENTA ALLOY which enhances corrosion resistance in service
Special paste formulation for Positive & Negative plates – higher life expectancy with superior charge acceptance in service
Double Clad Polyethylene and Glass Mat separation – high reliability and longer life
Special Omega type cover design fitted with Venturi type chamber cover – excellent spill-resistant characteristics
Rugged looks with attractive cosmetics
Long wet shelf life – no freshening charge required for up to 6 months from date of manufacture
Easy to use – Batteries delivered factory charged "ready-to-use" condition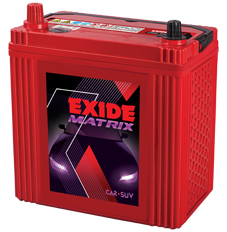 Maintenance-free batteries with advanced Ca – Ca system
Long wet shelf life – no freshening charge required for up to 6 months from date of manufacture
Special paste formulation for positive and negative plates – higher life expectancy with superior charge acceptance in service
Double-clad polyethylene and glass mat separation – high reliability and longer life
Special Omega type cover design fitted with Venturi type chamber cover – excellent spill-resistant characteristics
Attractive cosmetics
EXIDE MILEAGE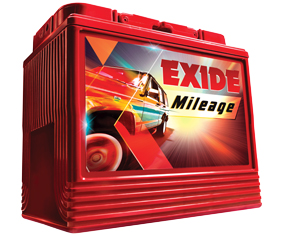 Robust design – to take care of stringent application requirements
Special side vented cover design – excellent spill-resistant characteristics
Double clad separation – high reliability and life expectancy ensures customer satisfaction
Technology – to suit high temperature applications
Appearance – rugged with appealing cosmetics
Magic Eye – for determination of electrolyte level and state-of-charge
Easy to use – batteries delivered in factory-charged, ready-to-use condition
EXIDE EEZY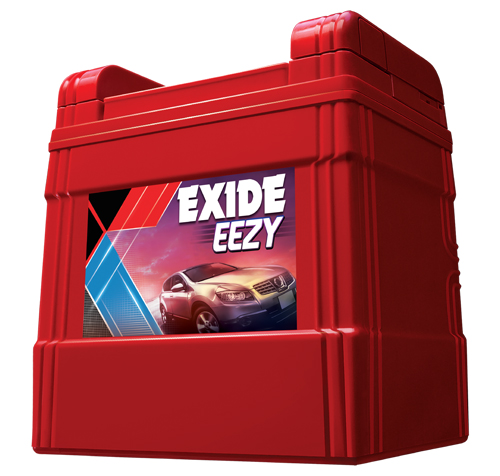 Batteries are manufactured by using new Lead-Tin-Calcium Alloy that helps to deliver higher cranking current and longer shelf life.
Battery made of Punched Plates from rolled sheet provides superior corrosion resistance & electrical conductivity.
High cranking power to weight ratio ensures high power in smaller footprint area with excellent Vehicle starting ability.
Less variance in weight compared to Conventional battery improves consistency & Reliability in product performance.
Duplex Cover design having unique tortuous path & flow-back mechanism, improves Spill-proof Characteristics under arduous vehicle running condition.
Effective flame arrestors with micro porous filter disc in vent openings to arrest acid fumes and restrict spark propagation inside the battery which enhances safety
Special self locking Handle design reduces chance of accident due to come out of Handle from battery.
EXIDE GOLD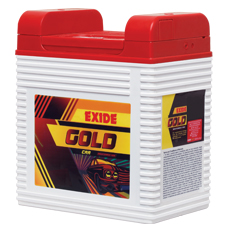 Designed for Indian conditions : Specially designed Polypropylene container, corners reinforced with ribs, ensures the battery is strong enough to withstand bumps and vibrations
Technology : Optimized Alloy System to suit high temperature and low maintenance application
Reduced effect of vibration : Compact element design ensures battery can withstand high vibration in application
Easy handling & spill proof : Special Omega type cover design fitted with Venturi type chamber cover & Anti-splash guard feature – excellent spill resistance characteristic
Instant start every time : Good cranking power and better life expectancy ensure customer satisfaction
Ready to use : Batteries are factory charged and ready to use condition
EXIDE XPRESS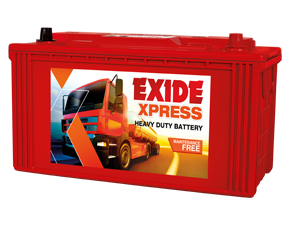 Withstands bumps and vibrations: Special polypropylene container with strengthening ribs makes the battery strong enough to withstand severe operating conditions and arduous vibrations in service
Made for Indian environment: Use of special Hybrid Alloy System ensures that the battery can withstand the Indian environment and high under-bonnet temperatures
Improved cycle life: Double-clad separation in the form of a unique rib-free separator profile, reinforced with texturised glass mat, provides surface support to the active material, thereby improving cycle life and resistance to bumps and vibrations
Quick recharge: Unique tree radial grid design, lower internal resistance and a special paste chemistry enhance recharging capability of the battery during use
Magic eye: Easy to ascertain the state of the charge as well as electrolyte level of the battery
Enhanced safety: Micro-porous filter disc in vent openings help arrest acid fumes and restrict spark propagation inside the battery
Leak-resistant design: Side vented lid with electrolyte flow back system reduces chance of electrolyte leakage during handling
Maintenance-free: Requires topping up only once in 6 months. Special alloy ensures low water loss during high temperature operations
Ready-to-use: Batteries delivered factory-charged in ready-to-use condition
Exide xpress range are flat plate flooded lead acid battery which conforms – IS 14257-1995, JIS-D5301-1999 & I S7372-1995 standard.
EXIDE JAI KISAN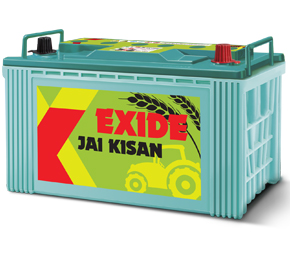 Leak-proof, factory-charged battery available for immediate use.
Internationally patented design to safeguard tractors from internal short- circuits.
Pre-filled and pre-charged, to prevent battery damage from the harmful effects of impure acid and water.
Especially designed to increase longevity of tractors.
The battery cables and housing are fully protected from acid fumes and rust formation on terminals.
Specially created to withstand extreme weather conditions, jolts and shakes.
High cranking power enables immediate start-up.
Easy to pick and carry since this battery is fitted with strong and rust-resistant handles which retract into place when not in use.
Airlock system and side-venting design make these batteries completely leak-proof.
Fitted with electrolyte reserve above the plates, this battery is fully maintenance-                                                                           free.
EXIDE CABBY
Robust Design: Battery can withstand the Indian environment and high under-bonnet temperature. Robust design ensures reliability under stringent application regime
Special Side Vented Cover design: Excellent spill-resistance characteristics
Double Clad Separation: High reliability and better service life ensure customer satisfaction
Technology to suit high temperature application and negligible water loss
Rugged appearance with appealing cosmetics
Instant start every time: Good cranking power
Magic Eye: For determination of Electrolyte level and state of charge
Easy to use: Batteries delivered factory charged in 'ready-to-use' condition